Principal's Welcome
Welcome to Woodville Gardens School Birth - Year 7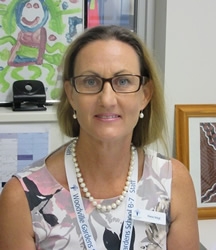 Woodville Gardens School provides rich educational experiences in a diverse cultural setting. The school values the language and heritage that all families contribute to our school community.

Our school offers an exciting learning and care environment for children in long day care, preschool, early years, and primary schooling. We work alongside our families and the wider community to create an innovative learning environment with high achievement standards in learning and in care.
Our Vision is for a cohesive community of life-long learners.
Our Values are 'respect,responsibility, and fairness' in all that we do.
Our Expectations are for:
excellence in education and care
innovative lifelong learning for all
an environment of social inclusion
We continually shape ourselves as a school in which the community has confidence and pride.
We work alongside our school community to prepare our children as 21st Century Learners, capable of thriving in an ever changing world.
Fiona Voigt
Principal